Exploring Oregon's Only National Park and Neighborhood
CRATER LAKE – SUMMER – FIRE NOTICE – To learn more about the current wild Ffre in the park, Bybee Creek Fire go to http://inciweb.nwcg.gov/incident/4899/.
Crater Lake is Oregon's top visitor attraction and we've made it easier to visit with a complete guide to lodging, dining, wineries, golf, casinos and additional visitor attractions in the area. The Park is now offering its full range of summer activities, including a special Britt Festival Orchestra performance at the Park.  CLICK HERE to learn more about what is going on this summer.
BEST GATEWAYS TO CRATER LAKE
HIGHWAY 97
If you are traveling up the eastern side of the Cascade Mountains heading to/from Central Oregon or Eugene (via Highway 58), Crater Lake is easy to visit from Klamath Falls, Chiloquin, La Pine, Sunriver and Bend.
KLAMATH FALLS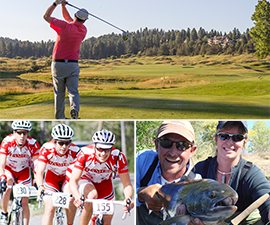 MEET ME IN KLAMATH (Highway 97, 57 miles to Crater Lake) – Ahh, Klamath!  The very home of Crater Lake.  Half a hop from the Lava Beds National Monument.  Smack dab in the middle of the largest migratory bird route in the west, Native American and World War II sites that will really get you thinking.  Serenely drift on meandering rivers or fish lakes chock full of ravenous trout that practically leap into your boat.  Oh and centuries of stunning cycling and mountain biking.  Hiking?  Oh, yes there's hiking.  And did I mention Crater Lake?  I did?  Well, there's just so much to do here, you really need to get down here and see it for yourself.  Come on.  Meet me in Klamath! Stop by the Visitor Center for more information on planning your Klamath vacation:  205 Riverside Drive, Klamath Falls; or, call 1.800.445.6728. CLICK HERE TO VISIT WEBSITE
CRATER LAKE – KLAMATH REGIONAL AIRPORT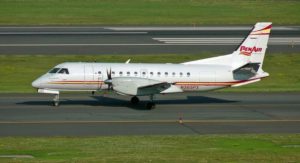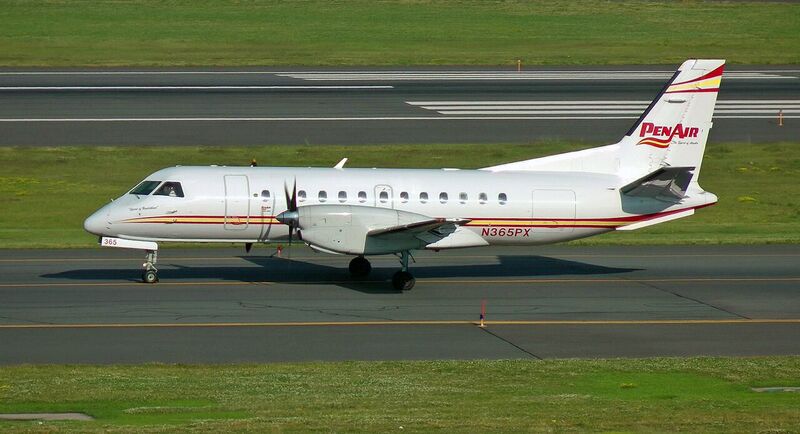 KLAMATH FALLS (57 miles to Crater Lake) The Crater Lake – Klamath Regional Airport is the closest airport to Crater Lake National Park. It offers direct air service daily to Portland and beyond via PenAir and its partner Alaska Airlines. The remodeled airport terminal features free parking, free coffee, free wi-fi, a full restaurant and bar, and one of the shortest, quickest check-in processes anywhere. And with on-site national car rental agencies such as Avis/Budget and Hertz you are just ten minutes from downtown Klamath Falls, which offers excellent lodging and restaurant options. The airport makes it easy to plan your "Fly-Drive-See Crater Lake" trip. CLICK HERE TO LEARN MORE.
INTERSTATE-5
The main interstate to/from Oregon is I-5 – western side of the Cascade Mountains. There are numerous cities that offer easy access to Crater Lake from I-5. The most popular ones (south to north) are Ashland, Medford, Grants Pass, Canyonville, Roseburg and Eugene (from I-5, take Highway 58 to Highway 97 to the Park).
JACKSONVILLE
Historic Jacksonville (80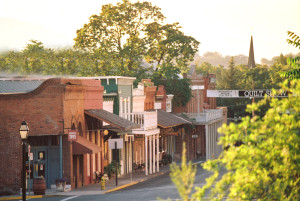 miles to Crater Lake) is the Heart of the Southern Oregon Wine Region, gateway to the Applegate Valley Wine Trail and an easy drive to Crater Lake. "The undiscovered wine country of your dreams"is what Sunset Magazine .called this area. Jacksonville combines small-town charm and Gold Rush history with a thriving cultural and epicurean scene.  Home of the summer-long Britt Music Festival, you will also find an incredible selection of independently owned shops and eateries well as readily accessible hiking and biking trails.  Stay in Jacksonville while exploring all of Southern Oregon Visitor Center: 185 North Oregon Street, Jacksonville Oregon, phone 541.899.8118, . CLICK HERE TO VISIT WEBSITE.
GRANTS PASS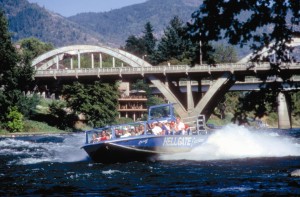 HELLGATE, MORRISON'S AND ROGUE WILDERNESS (Interstate 5, 96 miles to Crater Lake) – Located right off Interstate 5, Grants Pass offers you the fun of adding Rogue River jetboating, rafting, fishing and lodging to your Crater Lake visit. Start your adventure by booking a stay at historic Morrison's Rogue River Lodge (8500 Galice Road, Merlin, Res: 1.800.826.1963). Relax in one of their cozy cabins. Swim, play tennis and experience their fine dining while you watch herons fish, osprey dive, or eagles soar along the river. Next, book a trip on the Northwest's #1 River Trip, Hellgate Jetboat Excursions (966 SW 6th St, Grants Pass, Res: 1.800.648.4874). See the beauty of the Rogue River, jet through the jaws of Hellgate Canyon, experience 360° spins and dine family style at their exclusive riverfront OK Corral. While at Morrison's enjoy a one day or multi-day whitewater rafting trip with Morrison's Rogue Wilderness Adventures (325 Galice Rd, Merlin, OR 97532, Res: 541.479.9554). They offer safe rafting adventures suitable for all ages and experience levels.

MEDFORD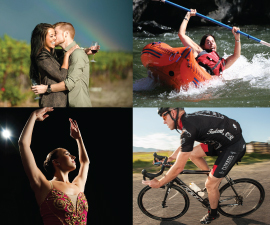 TRAVEL MEDFORD  (Interstate 5, 76 miles to Crater Lake) –Recently named a top 12 global wine region to visit by Forbes, Medford and the Rogue Valley are home to more than 150 wineries which produce award-winning varietals. The region's artisan foods are the perfect complement and include prized cheeses from Rogue Creamery, luscious Lillie Belle chocolates, as well as Harry and David's world-famous Moose Munch. Over 200 days of sunshine enrich the breathtaking terrain of the Rogue Valley. Outdoor enthusiasts can take in the sights while rafting, hiking, biking, ziplining, golfing, or appreciating world-class fishing. Home to some of the best live performances on the west coast, the Rogue Valley offers Tony award-winning productions at Oregon Shakespeare Festival, top headliners at Britt Festival, and exceptional entertainment at the Craterian. Your Journey Begins in Medford. LOCATION: Visitor Information Center, 1314 Center Drive, Medford (Exit 27 off Interstate 5, inside the Harry & David Country Village) PHONE 541.776.4021  CLICK HERE TO VISIT WEBSITE.

ROSEBURG
LAND OF UMPQUA (Interstate 5, 102 miles to Crater Lake) – The trip from the City of Roseburg to Crater Lake via the Rogue-Umpqua Scenic Byway is considered by many the most scenic route to Oregon's only National Park. The "Land of Umpqua," which stretches from the coast to the Cascade Mountains is filled with authentic adventures. On your way to the Park stop at dozens of waterfalls, hike or mountain bike the North Umpqua Trail that parallels the "Wild and Scenic" North Umpqua River (dotted with campgrounds). Cast a line for steelhead, trout or bass and as much adventure as you could hope for in one river. The perfect base for exploring the area is the town of Roseburg offering over 1,000 rooms. Stroll through historic downtown, with unique shops, galleries, outstanding brewpubs and restaurants. Venture out and sip your way through the Umpqua Valley wine region, one of Oregon's fastest growing. Roseburg Visitors Center location: 410 SE Spruce Street, Roseburg, OR, Phone: 1.800.444.9584. CLICK HERE TO VISIT WEBSITE.
EUGENE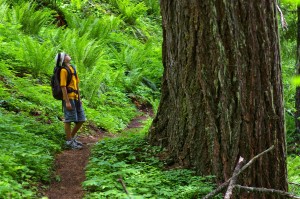 EUGENE, CASCADES & COAST (Highway 58 via Oakridge to Crater Lake 176 miles or Interstate 5 via Cottage Grove to Crater Lake, 173 miles) – The Adventure Center (I-5, exit 194) can provide you with road conditions, weather, free maps and points of interest to Crater Lake National Park. Eugene – Springfield is a cornucopia of wineries, breweries, performing and visual arts, outdoor recreation and sports. Two scenic routes lead to Crater Lake: Highway 58 takes you via Oakridge, "The Mountain Biking Capital of the Northwest," and some of Oregon's best natural wonders. One spectacular "must see" is Salt Creek Falls, Oregon's second highest continuous waterfall. The second route takes you south on I-5 to Roseburg via Cottage Grove, an "All America City" steeped in pioneer culture with the largest concentration of historic covered bridges west of the Mississippi. (Visitor Center & Gift Shop: 3312 Gateway St, Springfield, OR, Phone: 1.541.484.5307. CLICK HERE TO VISIT WEBSITE.
HIGHWAY 101
Just because you are exploring the scenic Oregon Coast it doesn't mean you have to miss Crater Lake. The Park is a wonderful one day excursion from the coast and there are convenient routes to the Park from many cities including (south to north) Brookings, Bandon, Gold Beach and Coos Bay/North Bend.

OREGON SOUTH COAST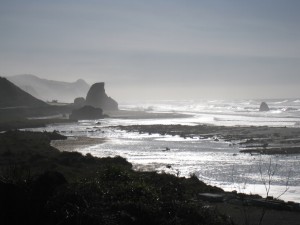 GOLD BEACH & BANDON (Highway 101, Gold Beach 221 miles, Bandon 187 miles to Crater Lake) – Many Crater Lake visitors don't realize that combining a tour of Oregon's spectacular South Coast is very doable with a visit to the Park. There are numerous routes that connect the coast to the Park. You can either start or end your trip with a coastal experience. The highlights of any South Coast visit are the towns of Bandon and Gold Beach. Bandon (Visitor Center location: 300 Second Street, Old Town, Bandon, OR, Phone: 1.541.347.9616) is a charming and unspoiled town that is world-famous as the home of Bandon Dunes, one of the top golf destinations in the world. Gold Beach (Visitor Center location: 94080 Shirley Lane, Gold Beach, OR, Phone: 1.800.525.2334) is where the Rogue River meets the sea. It offers Rogue River jetboat trips, easily accessible beaches, and great fishing. To learn more about both towns, see Attractions below.
Quick Links: