RV Parks Around Crater Lake
Use map zoom to see individual listings more clearly – Click on green circle OR scroll down below map to see full listing information.
LISTING ORDER BELOW IS BASED ON DISTANCE FROM CRATER LAKE NATIONAL PARK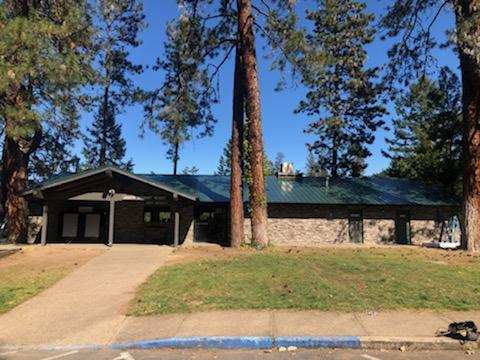 JOSEPH STEWART COUNTY PARK AND RESORT – RV/CAMPING
TRAIL (34 miles to Crater Lake) – Enjoy Oregon's stunning natural beauty with tent and RV campsites, boating, fishing, swimming, miles of bike and hiking trails, and more. Rent a boat or grab lunch at the café. Or take a quick scenic drive to bucket list-worthy Crater Lake National Park.  Visit this green wonderland and refresh your body and mind! Location: 35251 Highway 62, Trail, OR, RESERVATIONS: 541 774 8183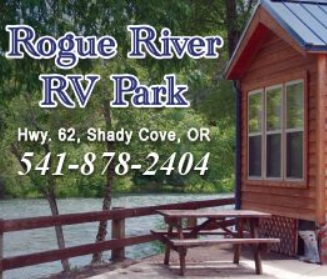 ROGUE RIVER RV PARK
SHADY COVE (55 miles to Crater Lake) – This highly rated, riverfront park offers full hookups and pull throughs. Amenities include private riverfront boardwalk, deck and small beach, boat ramp, Pavilion BBQ area, fish cleaning station, exercise and billiard room, seasonal pool and spa, and cable TV. Nestled in the trees are ten comfortable rustic cabins that can also be rented. Easy walking distance to shops and restaurants in Shady Cove. Location: 21800 Crater Lake Hwy 62, Shady Cove, OR 97539. Phone: 541.878.3171
HOWARD PRAIRIE RESORT – RV/CAMPING
ASHLAND (58 miles to Crater Lake) If your idea of camping includes immersion in natural ambiance, Howard Prairie Resort is for you! Set up your tent or RV in one of their tree-covered campsites and enjoy 1.63 miles of lake frontage and stunning views of Mount McLoughlin. Visit one of the nearby parks where you'll find activities like hiking, rock climbing, biking, picnicking, and more. And don't miss your opportunity to visit Crater Lake National Park. Location: 3249 Hyatt Prairie Road, Ashland, OR, RESERVATIONS: 541-774-8183
SOUTHERN OREGON RV PARK
CENTRAL POINT (64 miles to Crater Lake) – Nestled between two fishing ponds, this RV Park features 92-full hookup sites (water, 20-30-50-amp electric, sewer) and pull-through sites with 60'-75' paved slips. Adjacent to the EXPO (I-5, Exit 33) the park connects to a 20-mile, paved trail and provides easy access to the Shakespeare/Britt Music Festivals.  Near various lakes and the Rogue River, it is ideal for rafting/boating, fishing, hiking, cycling and camping. 541.774.8183
SWEET DREAMS RV RENTALS
GRANTS PASS (89 miles to Crater Lake) – Dreaming of outdoor fun with no hassle? Sweet Dreams, Southern Oregon's only fully-outfitted RV trailer rental company, can get you out… and stay out. They deliver and set up your unit, or you can tow one. Their themed quality trailers come with everything you need, including local organic Rogue Roasters Coffee. All you bring is food, personal items, and a love of camping. When adventure calls… they deliver. Call 541.630.4795 or visit website for rates.
THE MILL CASINO • HOTEL & RV PARK
ON COOS BAY (191 miles to Crater Lake) – Experience the best that Oregon has to offer by adding the coast to your Crater Lake adventure. This waterfront property has over 200 well-appointed rooms, 102 RV spaces, five excellent dining venues along with 700 slot machines and Vegas-style table games, and live entertainment. 3201 Tremont Ave, North Bend, Oregon, phone: 541.756.8800