RV Parks Around Crater Lake
Use map zoom to see individual listings more clearly – Click on green circle OR scroll down below map to see full listing information.
LISTING ORDER BELOW IS BASED ON DISTANCE FROM CRATER LAKE NATIONAL PARK
ROCKY POINT RESORT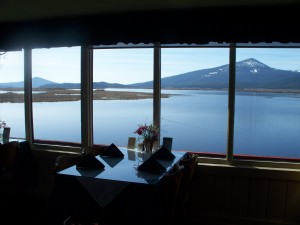 ROCKY POINT (41 miles to Crater Lake) – Established in 1910, this historic resort is located on the Upper Klamath Lake (Winema National Forest). They offer great facilities for fishing, boating and wildlife viewing. Just off the resort's docks are nearly ten miles of canoe and kayak trails lacing through the waterways of the National Wildlife Refuge. The lake is home to some of the largest rainbow trout anywhere. They offer RV and tent sites as well as rustic guest rooms and cabins. Some cabins are pet friendly. The restaurant offers everything from light meals to steaks, pasta and seafood. Reservations are highly recommended. It's a popular spot! The store offers grocery items as well as beverages, snacks, tackle and ice. There is also a laundry facility. Location: 28121 Rocky Point Rd., Klamath Falls, OR, Phone: 1.541.356.2287. CLICK HERE TO VISIT WEBSITE.

SOUTHERN OREGON RV PARK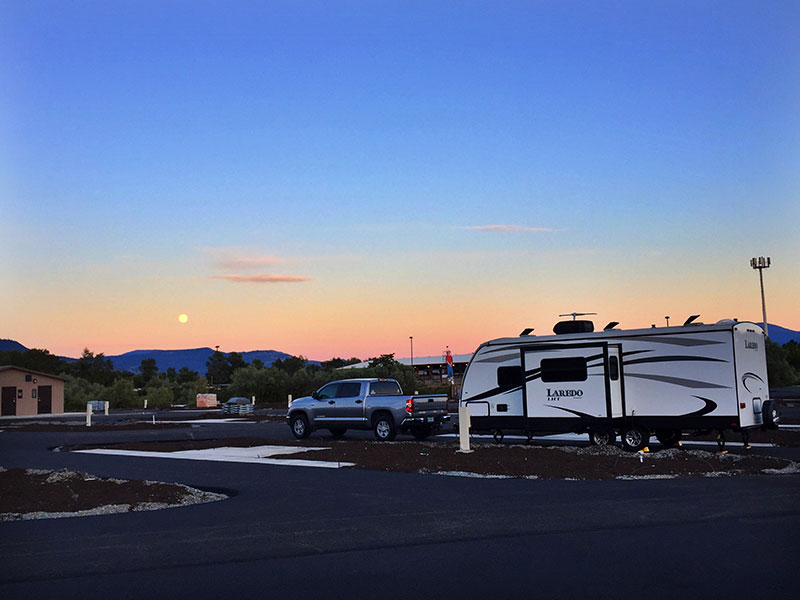 CENTRAL POINT (75 miles to Crater Lake) – This new park is nestled between two scenic ponds immediately adjacent to the Jackson County EXPO. The park is conveniently located in Central Point and offers 92 full-hookup sites (water, 50 amp electric, & sewer) right in the heart of Southern Oregon, near ideal locations for outdoor activities such as rafting, boating, fishing, hiking, cycling, and camping, as well as easy access to Shakespeare plays and the Britt Festival.  Sites in the park are designed for modern day RV's with 60 -75 foot long paved slips and an abundance of pull through sites, making it easy to maneuver. Location: I-5, Exit 33. Go online (click here) for reservations or call 541.774. 8183. CLICK HERE TO VISIT WEBSITE.
EMIGRANT LAKE & THE POINT RV PARK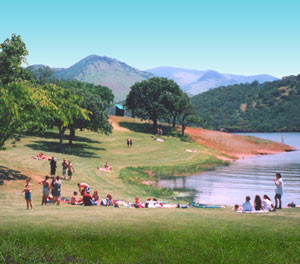 EMIGRANT LAKE (94 miles to Crater Lake) – Located just minutes from downtown Ashland, Oregon, the park offers a host of activities for the entire family. With 1467 expansive acres, including 12 miles of lake frontage, Emigrant Lake offers various recreational activities including RV/tent camping, fishing, boating, canoeing/kayaking, water skiing, swimming, picnicking, hiking, playing on the playground or sliding down the refreshing 280-foot twin flume water slide. The Point RV Park features 32 sites with full hookups, overlooking beautiful shoreline on the lake's north end. Each site offers water, 50-amp electrical service, sewer, and 14′ x 50′ pads to accommodate larger RV's. For a more natural experience, set up camp in one of the 42 tent sites at the Oak Slope Campground. Contact Jackson County Parks Office, 7520 Table Rock Road, Central Point, OR 97502. (541) 774-8183. CLICK HERE TO VISIT WEBSITE.
Quick Links: